Adobe

Photoshop

Get creative and take your design projects to the next level with our custom Photoshop plugins Development Services. At Adequate Infosoft, we are committed to delivering solutions that elevate your design experience and empower you to create stunning interfaces.

Connect with us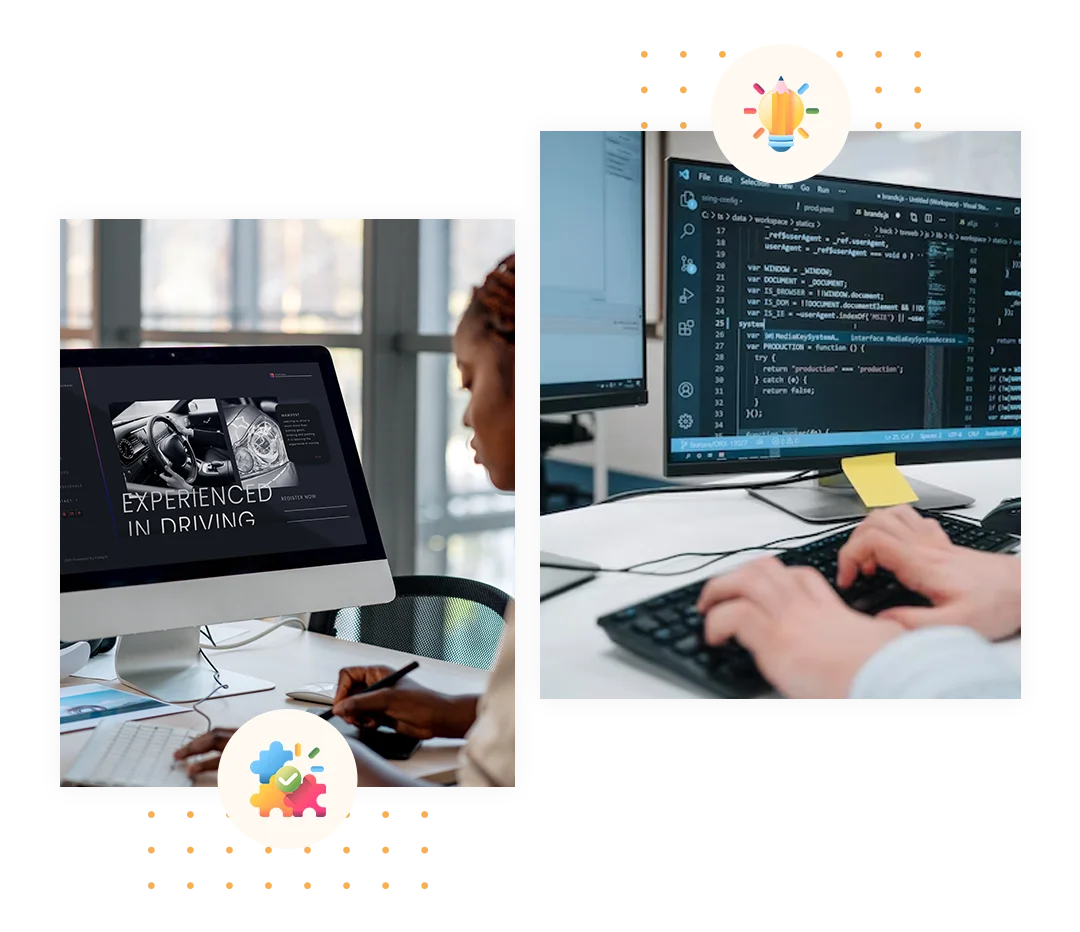 Our Photoshop plugin
Development

Services Include
Custom Plugin Development
Whether you have a specific idea in mind or need assistance in conceptualizing a plugin, our team can help you develop custom solutions tailored to your requirements.
Automation
Tools
Our team excels at designing innovative Automation Tools and implementing it on your software or website to enable you to achieve new heights of creativity. From advanced filters to interactive tools, we're here to push the boundaries of what Photoshop can do.
UI/UX
Design
Our design team collaborates with developers to create intuitive and user-friendly interfaces, ensuring that your Photoshop extensions and tools are as visually appealing as they are functional.
Integration with
Third-Party Tools
We can create plugins that seamlessly integrate Adobe Photoshop with other software and tools you use, creating a unified and cohesive environment for your projects.
Performance Optimization
We fine-tune your Photoshop plugins and tools for optimal performance, ensuring smooth functionality even when dealing with resource-intensive tasks.
Regular Updates & Maintenance
As the software landscape evolves, we stay committed to keeping your plugins up-to-date and compatible with the latest versions of Adobe Photoshop, ensuring a consistent and reliable experience.
Why
Photoshop

Development Matters?

The demand for efficient and creative solutions is increasing rapidly in today's fast-paced digital landscape. Photoshop development not only improves your skills but also allows you to stand out in a crowded market. Whether you are an individual artist or a company looking to provide innovative design tools, our Photoshop development services can assist you.
Hire certified Photoshop
plugin Developers

from Adequate Infosoft
Expertise
With years of experience in the field of software development and design, our team possesses the technical know-how and artistic flair to create innovative Adobe Photoshop plugin development solutions that can cater to your unique requirements.
Customization
We understand that every project is different. Our approach revolves around tailoring our Photoshop development services to align with your specific needs, ensuring that the end result exceeds your expectations.
Innovation
The world of design and technology is constantly evolving. We stay up-to-date with the latest trends and advancements to provide you with cutting-edge Photoshop development solutions that keep you ahead of the curve.
Comprehensive
From plugin development to automation tools, our Photoshop Development Services cover a wide spectrum of needs. Whether you're a professional photographer, a creative agency, or an individual enthusiast, we have solutions that fit your requirements.
Our Plugin
Development

Process
Consultation
We start by understanding your creative goals and workflow. Our experts collaborate closely with you to grasp your vision and requirements, ensuring that the plugin aligns perfectly with your objectives.
Tailored Solutions
We understand that every business has unique requirements. Our team works closely with you to understand your objectives, challenges, and desired outcomes. With this information, we create custom solutions that leverage Microsoft Azure Cognitive Services to address your specific pain points and drive tangible results.
Design & Development
Our skilled developers combine their technical expertise with a creative mindset to design and develop your custom plugin. This involves coding, UI/UX design, and rigorous testing to ensure the plugin's stability and performance.
Testing & Refinement
We subject your plugin to thorough testing to iron out any glitches or issues. Your feedback during this phase is invaluable, as it allows us to refine the plugin until it meets your highest expectations.
Delivery & Support
Once the plugin is perfected, we deliver it to you along with comprehensive documentation. Our support team is always available to assist you with any queries or concerns.
Frequently Asked

Questions

Find the answers to all of our most frequently asked Questions.