Nordic

nRF52 Semiconductor Development

Leveraging the era of wireless technology with nRF microcontrollers, our dedicated developers can assist you in offering NRF52 Firmware Development Service using the nRF series to meet your specific requirements.

Connect with us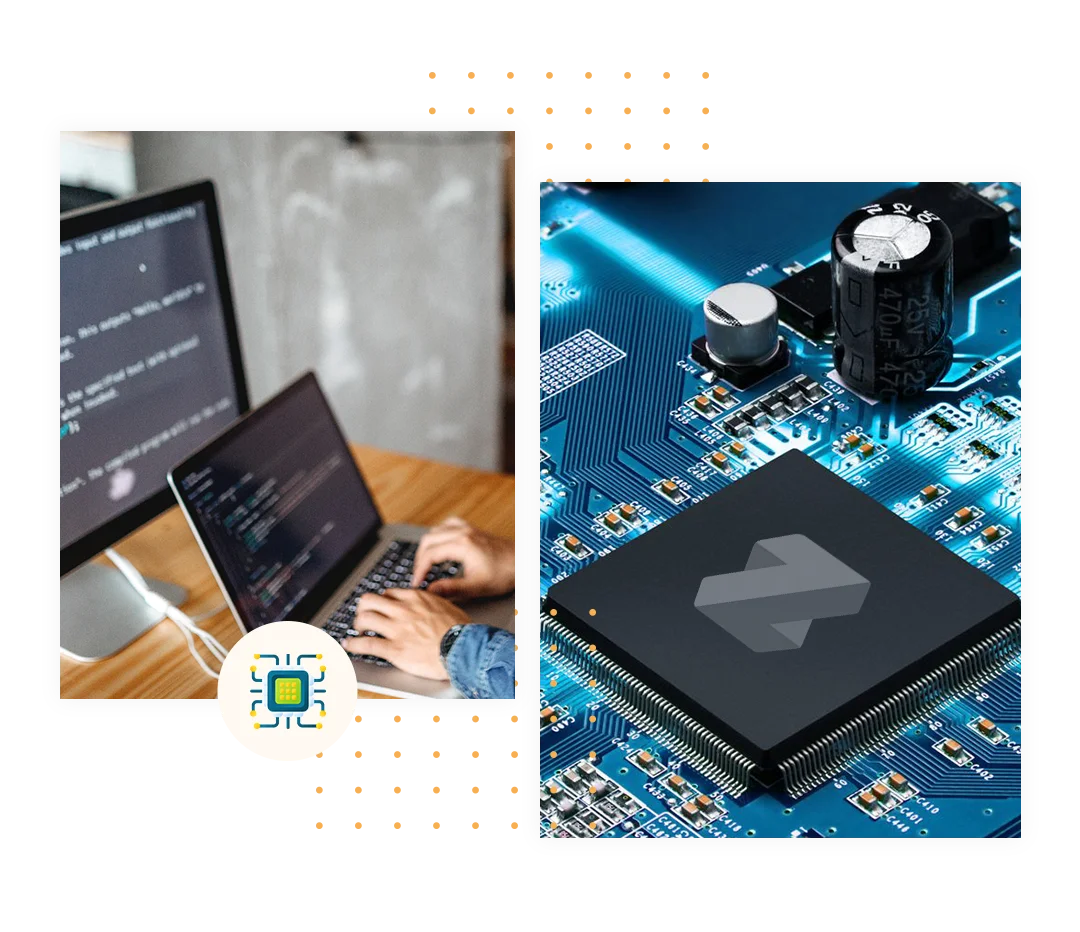 Our Nordic Semiconductor
Development

Services

Adequate Infosoft provides a wide range of Nordic Semiconductor Development Services to all businesses worldwide in order to meet their needs.
Custom Hardware Design
Our team of skilled Nordic developers can design custom PCB layouts and schematics, considering project specifications and constraints. We focus on optimizing power efficiency and ensuring signal integrity to deliver reliable and high-performing solutions.
Firmware
Development
We specialize in developing firmware for the Nordic nrf52 dk series using the Nordic Software Development Kit (SDK) and other pertinent tools. Our firmware engineers have in-depth knowledge of Bluetooth Low Energy (BLE) protocols, wireless communication stacks, and real-time operating systems (RTOS), allowing us to develop firmware that is both efficient and secure for your applications.
System
Integration
Our expertise also includes the seamless integration of Nordic nRF52 solutions into larger systems and existing platforms. We can assist you in connecting your devices to cloud platforms, mobile applications, and other peripheral devices, facilitating the exchange and interaction of data.
Testing and
Validation
We employ rigorous testing methodologies to ensure the reliability and stability of your Nordic nRF52-based solutions. Our team conducts thorough functional testing, performance optimization, and compatibility testing to guarantee that your product meets the highest standards of quality.
Technical
Support
We provide comprehensive technical support throughout the development process and beyond. Our team is readily available to address any concerns, answer your queries, and provide guidance to ensure a smooth and successful development experience.
What are Nordic
Semiconductors?
Nordic Semiconductors is a leading provider of ultra-low-power wireless chips. These chips enable a wide range of applications in the space of the Internet of Things (IoT) and wireless communication. With the flagship nRF52 series, we can create powerful, low-energy chipsets supporting multiple wireless protocols. Nordic Semiconductors enables businesses to develop innovative, dependable, and cost-effective wireless products in industries such as wearables, IoT, and others.
Why Adequate Infosoft for
Nordic Semiconductor

Development?

We are among the best software development companies, providing Nordic Semiconductor development services to our clients. Till now, we have helped many clients from various industries make their dream projects a reality. Whether you need assistance with designing custom firmware, developing wireless applications, or optimizing power consumption, we have the expertise to deliver outstanding results.
Expertise
Our team comprises highly skilled engineers with extensive experience in Nordic nRF52 semiconductor development. We stay updated with the latest advancements in the field to deliver innovative and cutting-edge solutions.
Tailored Solutions
We understand that each project is unique. We work closely with our clients to understand their requirements and develop custom solutions aligned with their goals and objectives.
Quality Assurance
Adequate Infosoft's dedicated developers are committed to delivering high-quality solutions. Our stringent quality assurance processes and attention to detail ensure that your product meets the highest standards of performance, reliability, and security.
Timely Delivery
We understand the importance of timely delivery. Our streamlined Nordic (nRF52) Semiconductor development service and efficient project management ensure that your project progresses smoothly and is delivered within the agreed-upon timeframe.
Client Satisfaction
Our ultimate goal is client satisfaction. We strive to build long-term relationships with our clients by providing exceptional services, transparent communication, and continuous support throughout the project lifecycle.
Why Choose Nordic
Semiconductors?
The Nordic nRF52 series is renowned for its exceptional performance, low power consumption, and versatility, making it an ideal choice for a wide range of applications such as Internet of Things (IoT), wearables, wireless communication, and more. Leveraging the power of the Nordic nRF52 platform, we can create robust and efficient solutions tailored to Specific business needs
Benefits of using
Nordic
nRF52

Semiconductor
Ultra-low power consumption
Nordic nRF52 Semiconductor is known for its energy efficiency, enabling devices to operate for extended periods on a single battery charge.
High-performance capabilities
Despite low power consumption, the nRF52 Semiconductor combines a powerful processor and ample memory, allowing for the creation of complex and feature-rich applications.
Reliable wireless connectivity
The nRF52 supports various wireless protocols, ensuring stable and reliable communication with smartphones, tablets, gateways, and other IoT devices.
Extensive development ecosystem
Nordic Semiconductor provides comprehensive tools, software frameworks, and a supportive community, streamlining the development process and reducing time to market.
Scalability and flexibility
With different chip variants available, developers can select the most suitable option for their specific application requirements, allowing for scalability and cost-effectiveness.
Cost-effective solution
The nRF52 offers a competitive price point, providing excellent value for money without compromising on performance and features.
track record & industry recognition
The nRF52 has been widely adopted in successful products across industries, earning a reputation as a trusted and preferred solution for wireless applications.
Frequently Asked

Questions

Find the answers to all of our most frequently asked Questions.