Microsoft Azure

Cognitive

Utilize the advancement of AI-powered Microsoft Azure Cognitive Services to create innovative solutions that can transform your business. Our experienced development team is eager to assist you in creating intelligent, efficient, and user-friendly software solutions that stand out in today's competitive market.

Connect with us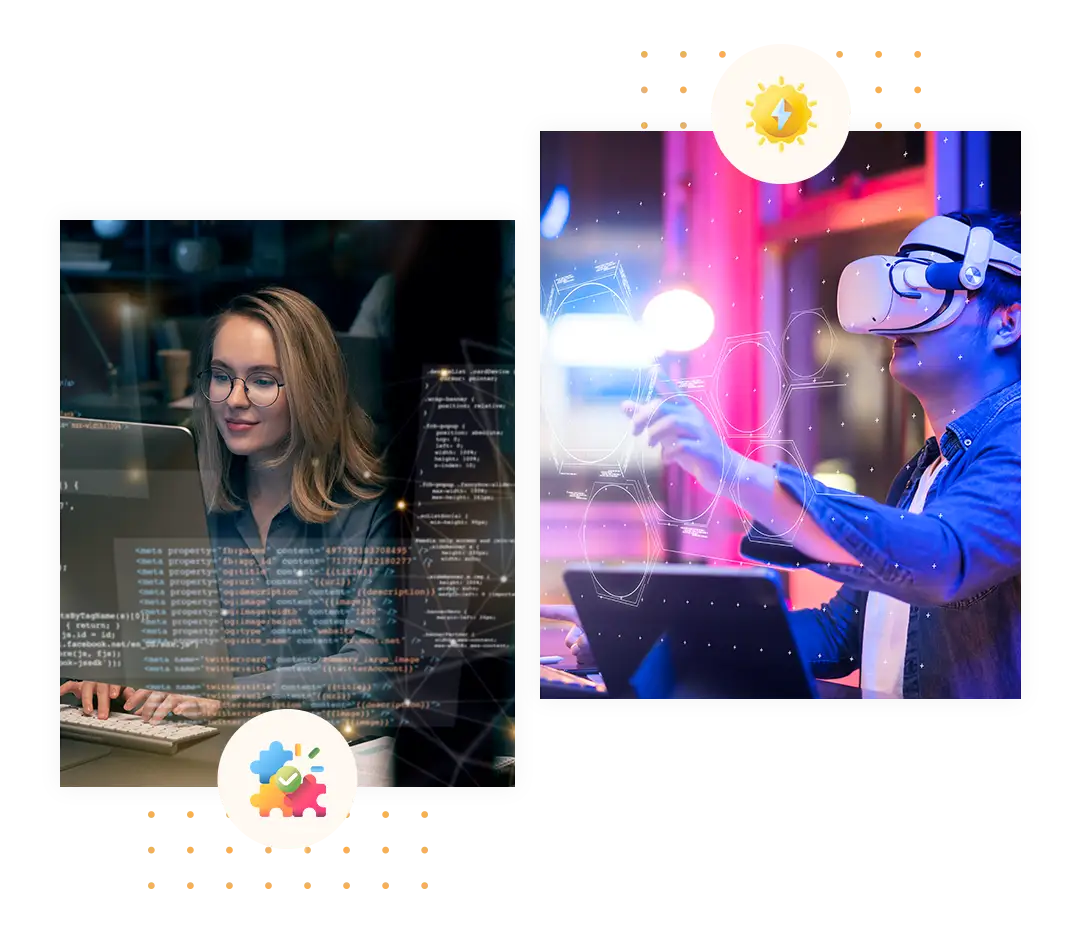 Our
Azure OpenAI

Services Domains

Azure AI Services cater to various domains, each providing unique capabilities
that can enhance your applications:
Vision AI
We leverage computer vision capabilities to analyze and extract information from images and videos. This includes facial recognition, object detection, image classification, and more, enabling you to create applications with smart visual understanding.
Speech AI
Harnessing the potential of speech recognition and synthesis, our developers create applications that can understand spoken language and respond with natural-sounding speech. This opens up possibilities for voice-enabled applications and services.
Language AI
We also provide natural language processing (NLP) with Azure Cognitive Services. Our developers can build applications that utilizeAzuree text to speech technology to comprehend and process text, enabling sentiment analysis, language translation, and intelligent chatbots.
Decision AI
Make informed decisions with Azure Cognitive Services' decision-making capabilities. Our experts can create recommendation systems and personalization features to enhance user experiences and drive engagement.
What are
Azure Cognitive

Services?

Azure Cognitive Services is a collection of pre-built AI (Artificial Intelligence) and ML (Machine Learning) services that enable developers to easily incorporate advanced capabilities into their applications. Developers working with Microsoft Cognitive Services do not need additional AI expertise. These services are designed to understand, interpret, and interact with human language, speech, vision, and more, allowing you to create intelligent, immersive, and engaging experiences for your users.
Benefits of using Microsoft Azure
Cognitive Services for
App Development
Microsoft Azure Cognitive Services offer a range of powerful tools and APIs that can greatly enhance app development by incorporating advanced AI and machine learning capabilities. Here are some benefits of using Azure Cognitive Services for app development:
Highly
Versatile
With a wide range of services available, Azure Cognitive Services caters to various industries and application scenarios. From language understanding to computer vision and speech recognition, these services can be seamlessly integrated into any application, be it web, mobile, or desktop.
Easy Integration with Various Platforms
Our developers at Adequate Infosoft love working with Azure Cognitive Services because they offer SDKs for multiple programming languages and platforms. Whether you're building applications for Windows, Linux, iOS, or Android, or using C#, Java, Python, JavaScript, and more, you can seamlessly integrate these AI services.
Scalable and Cost-Effective Solutions
Azure Cognitive Services are designed to scale effortlessly, catering to applications of all sizes, from small projects to large enterprise solutions. With the pay-as-you-go pricing model, you only pay for the resources you consume, making it a cost-effective choice for businesses of any scale.
Data Privacy and Security at Its Best
We understand the importance of data privacy and security, and so does Microsoft. Azure Cognitive Services adhere to industry-leading security standards, ensuring your data remains protected throughout the AI processes. Microsoft's compliance certifications, such as ISO, SOC, and HIPAA, further reinforce its commitment to data privacy and security.
Provide Real-time Insights
By leveraging Azure Cognitive Services, your applications can gain valuable insights from the data they process. These insights enable better decision-making, improved customer experiences, and increased operational efficiency.
Scalability and Reliability
The strong infrastructure of Microsoft Azure supports Azure Cognitive Services, ensuring that your applications run without interruption even during periods of high demand. You can scale up or down as needed, paying only for what you use.
Why Adequate Infosoft for
Microsoft Azure Cognitive

Services?
Expertise & Experience
Adequate Infosoft boasts a team of seasoned professionals who have extensive experience in working with Microsoft Azure Cognitive Services. Our experts possess in-depth knowledge of the services' capabilities, APIs, and integration methods, ensuring that your implementation is smooth and optimized for your specific needs.
Tailored Solutions
We understand that every business has unique requirements. Our team works closely with you to understand your objectives, challenges, and desired outcomes. With this information, we create custom solutions that leverage Microsoft Azure Cognitive Services to address your specific pain points and drive tangible results.
End-to-End Integration
From conception to implementation, we offer comprehensive integration services for Microsoft Azure Cognitive Services. We handle every aspect of the integration process, from choosing the right services for your needs to seamless implementation into your existing applications or systems. Our goal is to provide a hassle-free experience, allowing you to focus on your core business activities.
Innovative Approach
At Adequate Infosoft, we believe in harnessing the power of cutting-edge technologies to drive innovation. Microsoft Azure provides a platform for us to create groundbreaking solutions that go beyond conventional applications. Whether it's enhancing customer interactions with advanced chatbots or revolutionizing data analysis with AI-powered insights, we're committed to pushing boundaries and delivering solutions that set you apart from the competition.
Frequently Asked

Questions

Find the answers to all of our most frequently asked Questions.