Django app

Development
Adequate Infosoft will help your business utilize Django to its full potential. So, Hire dedicated Django developers to complete your project with brilliance.
Connect with us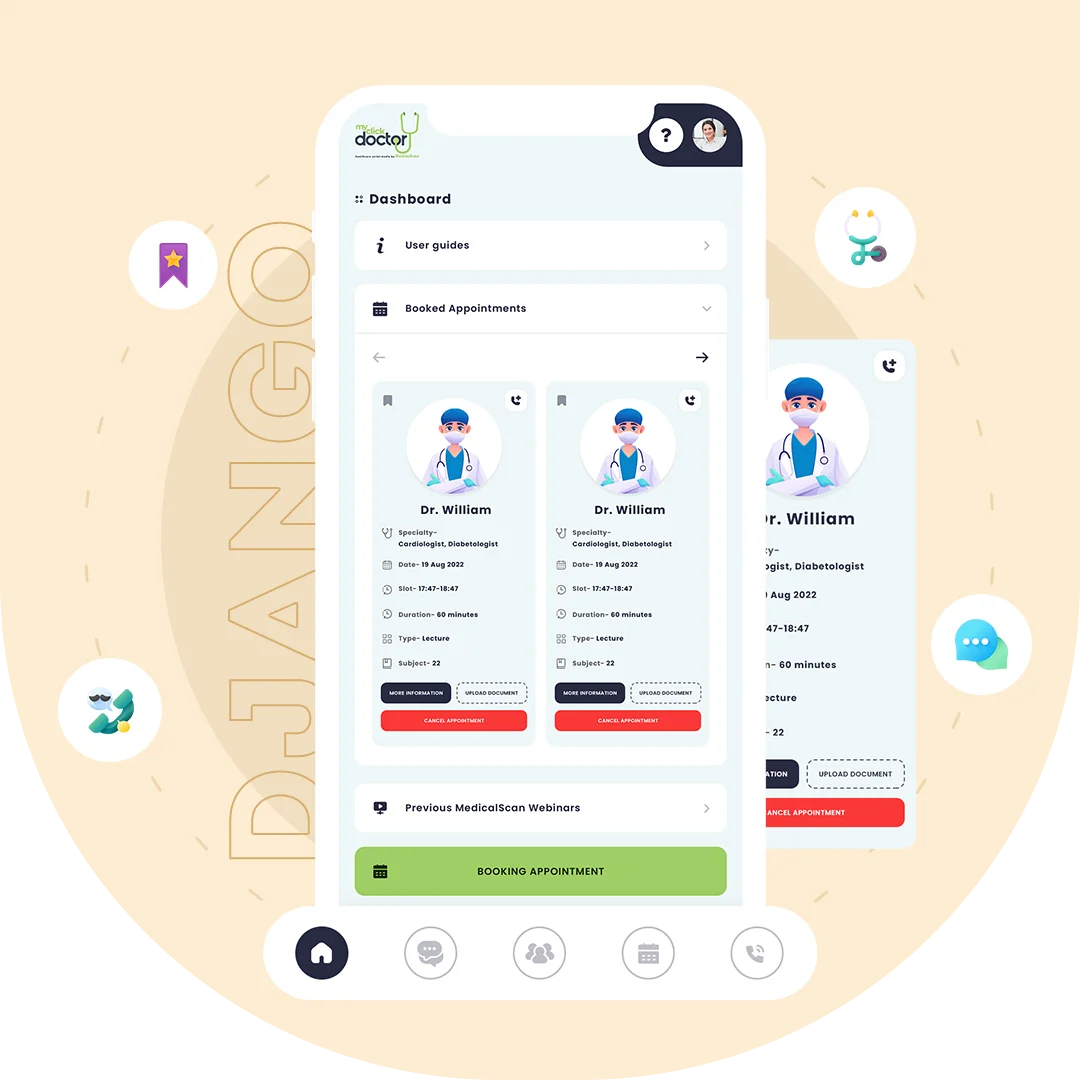 Our Django

Development Services

We have extensive experience creating unique Python and Django development solutions for a wide range of businesses, and we know just what they need to thrive. Our renowned Django web development services include:
Django Web Application Development
We are masters at developing safe, scalable web applications that simplify and enhance business operations.
Django Website Development
We are among the top Django web development firms that have developed so many beautiful, feature-rich, and mobile-friendly websites using Django.
Django Mobile App Development
To meet the needs of our clients, we develop highly interactive and functional iOS and Android mobile applications using the Django Web Framework and the Python programming language.
Django API Development
We develop well-documented, stable, and secure Django APIs for uploading mobile and web applications.
Django eCommerce App Development
Django can help you skyrocket your online store's profits by creating a custom e-commerce website or app.
Django
Migration
We can help you move your web or mobile app to Django from any other technology seamlessly, with no downtime or data loss.
Django Support and Maintenance
Our seasoned team of Django developers can manage any facet of your Django project. We are experts at finding solutions quickly, whether it's updating a service or fixing a bug.
Why is Django
better than other

web frameworks?

There are many choices for web frameworks these days, but you definitely need to consider these three factors that make Django better than other popular frameworks:
Fastest
Frameworks
Django is one of the fastest frameworks out there because it uses the Python language, which is known for being a fast language. Additionally, Django uses the Jinja2 template engine, which is also very fast.
well-supported community
A community of dedicated programmers backs Django. They update and improve the framework's infrastructure all the time.
highly
scalable
Django's scalability stems from its Python-based framework's ease of use for creating and maintaining programs of varying complexity and scope. When thinking about how to best meet the needs of the future of your business, scalability should be at the top of your list.
Hire Adequate Infosoft's
Django developers for

advanced coding
Scalable
Applications
We build Django applications that can handle huge amounts of traffic at the same time and process server requests without delay.
Complete Django Support
Our dedicated Django developers are experts in complete Django solutions, including Django 1x Python 2 and Django 2 Python 3.
Rapid Product Development
We use the Django framework to build applications quickly, giving us more time to bring a product to market and achieve maximum return.
Innovative
Products
Our previous Django projects demonstrate that we have built innovative products and take a state-of-the-art approach to develop enterprise solutions.
Python
Compliance
Our developers follow the Python style guide to make web and mobile apps with lots of features and interactions that meet industry standards.
Support and Maintenance
Our Django developers are honest and provide support and maintenance 24 hours a day, 7 days a week, with regular updates and bug-free releases.
Relevant
Experience
We possess 7 years of experience in this domain, and our workforce includes Django developers with more than 5 years of experience. Still, we are constantly improving ourselves to gain expertise and help clients stay competitive in their niche.
Skills Developers
team
Our Django Developers team was selected after rigorous tests and interviews. We are very picky about who we hire as developers so that our clients can rest assured that their projects are in safe hands.
Different engagement
Models
We are known for tailoring our engagement models to clients' preferences. The choice is completely yours, whether you want to outsource your Django project or hire a Django developer. We work around our clients' schedules.
Cost-Effective
Prices
We have a lot of experience providing the best Django development services at a price that doesn't break the bank and doesn't go over a set budget.
Quality-Centric Development
Our Django programmers follow the highest standards for coding, and before projects go live, they run thorough manual and automated tests to make sure systems are error-free and don't need much or any maintenance.
Transparent Working Methodology
At the start of the project, we maintain our clients at all levels by using a cutting-edge project management system to keep them up to date on updates. This has helped build trust between our customers and developers.
Industries that use Django for
app or web

development

Adequate Infosoft has grown and is now a leading Django development company that works in many different fields. Our developers are trying hard to serve every possible industry with Django.
Fintech
People are optimistic about the fintech industry's future. Who doesn't want to be financially stable and make more money? Django is widely employed in the creation of fintech-related web and app projects. A Django-based fintech app can be very useful to better understand the user's financial habits.
Transportation
Django is used to make transportation-industry equipment. Django apps are easy to use, scalable, and business-safe. It gathers data, reports errors, and manages them. Django's built-in programming can track everything from a vehicle's location to its load.
Proptech
Have you ever thought of checking the prices of all the properties nearby your location? Well, now you can create an application for the same thing using Django. Developers are using the Django framework to create Proptech applications that provide a clear picture of the property rates in your area. You can get a deep analysis of any property just by clicking on the location designed using the Django framework.
Healthcare & Fitness
Django is perfect for designing all types of fitness equipment, like real-time blood pressure monitors and calorie trackers. We can also add a component to the app that counts your physical activities and gives you your daily calorie burn. navigation
Location tracking
Navigation and mapping apps also use Django. It helps us get to our destination quickly and also helps people find nearby stores, malls, shops, and restaurants from their homes.
Gaming app
Almost all online racing games somehow involve Django, except desktop games. If you want to create a desktop game, then we suggest you use any other framework instead of Django.
Chatting Bot
We've seen video-calling apps, but have you ever wondered how you might see someone miles away? Django is being used by developers to create apps that deliver real-time videos of a friend from thousands of kilometers away. How Django sends video streams across a connection would be nice to know.
Designing an email-sending tool
Everyone sends business or personal emails daily. However, with Django, we can automate the email process. Django is a great tool to make a customized business email app that chooses automatically which email addresses and people to contact right away.
Social Network App
Social networking applications are a great trend these days. We all can communicate via voice call, video call, or text using these applications. Django plays a vital role in designing social networking applications. Also, it is efficient in maintaining the privacy of the user. So, you can use social networking apps built on Django and keep your information private and safe.
Online payment Apps
Online payment apps are needed now. We don't want our payment to fail or freeze at the receiver's end. Django is used to develop high-quality payment apps for shops and customers. Retailers get paid directly, while customers get a discount after paying.
Frequently Asked

Questions

Find the answers to all of our most frequently asked Questions.
Django is a powerful web framework written in Python that makes it easy to make modules quickly and well. Django's reliability, flexibility, simplicity, and scalability have made it a popular choice among developers.
Django is versatile and can be used to create a wide range of websites. It can send content in almost any format, such as JSON, HTML, RSS feeds, XML, or any client-side framework.
Django is a popular Python framework, and the combination of Django and Python works well in core solutions for IoT, blue-chip sites, IT giants, and fintech companies. It is also known for its scalability, customizability, and a strong in-built template system.