Our Custom Application

Services

Develop a custom application and embark on new digital opportunities with Adequate Infosoft. We are the leading custom software application development company in India that will make your dream project a reality.

Connect with us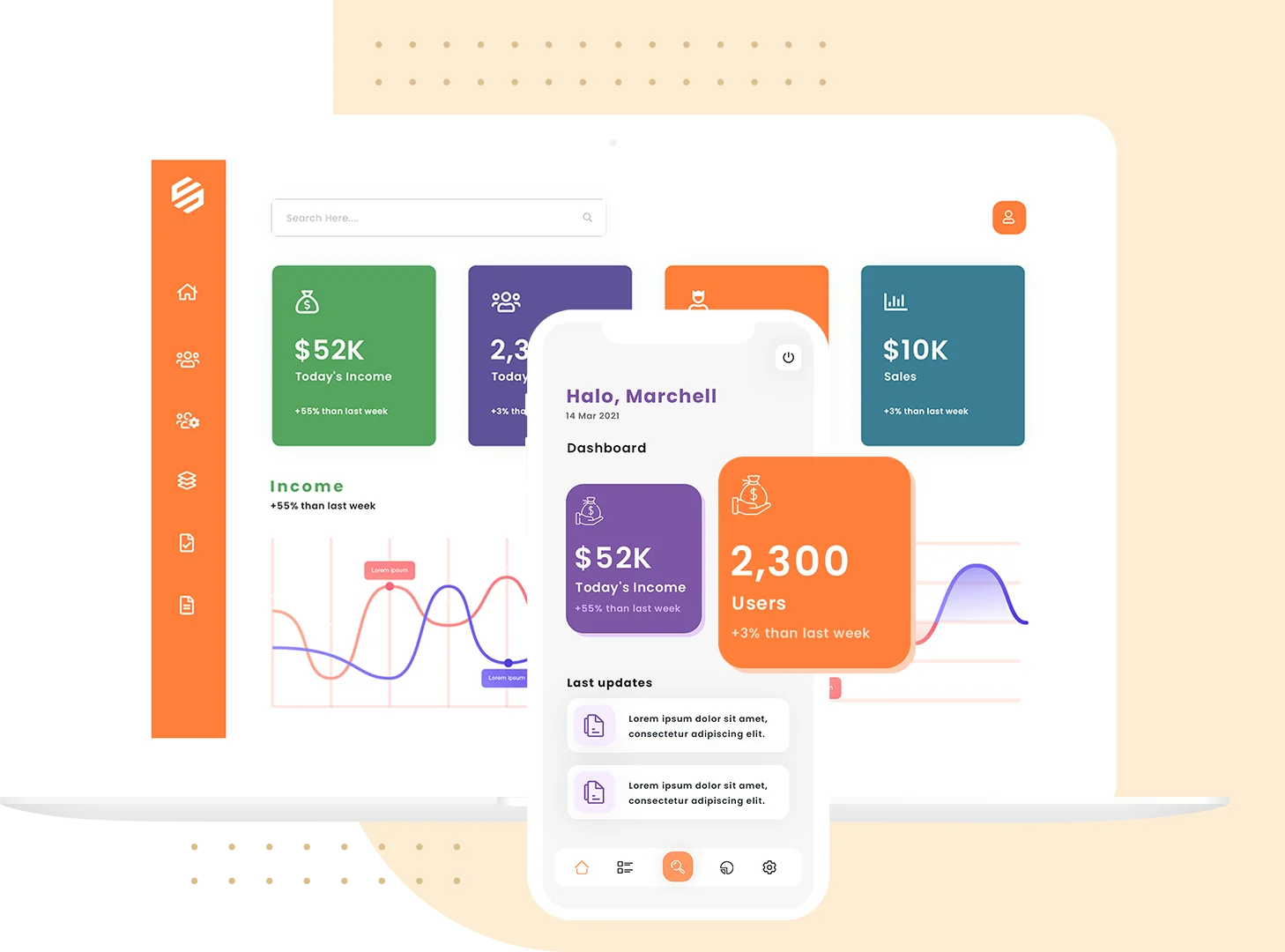 What We

Offer

To help companies bring their project ideas to life with less effort and time our experts offer custom application development solutions. Over the past 12 years of our digital expertise, our experienced developers are providing tailor-made solutions by using the latest technological trends and extensive knowledge to make the product development process hassle-free.
Web Applications
We provide comprehensive application development services to design secure UX / UI-based web solutions that serve users anywhere, anytime. Whether you are looking for a web portal or an online store to design, Adequate Infosoft is at your service.
Desktop Applications
Our dedicated team develops desktop applications for all types of operating systems (Windows, macOS, Linux, etc.) and enables cross-platform support to provide you with easy-to-use and efficient solutions.
Big Data Applications
These unique tools have been developed to provide valuable insight into the essence of your business. We ensure that your data is secure and properly analyzed so that decision-making and analytical processes are flawless.
Real-time Applications
Using the latest technologies, custom web and mobile application development becomes easy and helps us to process real-time data and provide responses to the processed results when you need them.
App Development
Our team is undoubtedly professional in the web design approach and also defines its approach through professional application design and coding. Our HTML experts work with w3c standards and verify W3C validation when performing HTML5 design actions on clients.
CSS3 + SASS Coding
Must prefer SASS coding at the Adequate Infosoft to design a website with the latest coding standards.
Website Re-design
A passionate team of web designers and developers exist who offer web maintenance services, in addition, to change web designs to customers as needed.
Our Custom Application
Development

Services

We are a preferred custom web application development company to many fortune
500+ enterprises and startups.
Experience
Design
Design web products for an engaging experience, increased customer satisfaction, better brand perception, and increased conversion rates.
Web & Mobile Development
Customized web and mobile application development of more than 200 business-critical web and mobile applications with a design-driven engineering approach in an outsourced model.
Web & Mobile Content Management
Complete content management solutions to ensure a seamless all-channel experience.
Mobility
Develop customized, immersive, and intuitive mobile solutions across all platforms like android and iOS app development for a pleasant user experience.
DevOps
Automate the transport process between leading cloud platforms.
Testing
Continuous application testing with the manual approach and automation tools for error-free delivery.
Big Data
Meaningful and feasible insight from data and analysis.
Cloud Managed Services
24/7 cloud infrastructure management and support services.
Why Custom Application

Development?

Custom software is designed for the business, so there is no need to modify the business procedures to fit a pre-designed software product. The software fits perfectly into the ecosystem of the existing business software system and usually does not require the use of multiple applications for specific business functions.

Adequate Infosoft is the one-stop platform for such custom app development. Our prime focus is on developing a quality product with a unique interface and easy-to-navigate features and functions.

Generally, anyone can save on hardware acquisition costs because the solution is designed with the infrastructure in mind and can avoid including unused features that only increase the need for hardware.
Benefits Of
Custom Application

Development
Efficient
A custom application is purpose-built to support processes swiftly and productively, without the need to tinker with or adjust COTS applications.
Profitability
Depending on the terms and conditions of the project, businesses that develop their own software may own the application and therefore be able to license or sell it to other organizations.
Independent
On the plus side, organizations can avoid price hikes for licensing and support and get stuck maintaining packaged software should the vendor go out of business or terminate a product.
Scalable
Custom applications can grow as an organization or business grows and changes. Designers and developers can assess future needs as part of gathering requirements.
Experienced Developers
Experience developers at Adequate Infosoft capitalize on their years of experience to build solutions with optimum performance.
Development Community
The Association of our custom app developers with the global community of custom application development developers helps them stay up-to-date with the latest trends while sharing ideas with peers.
Skilled Troubleshooters
Troubleshooting is an unavoidable prerequisite for application development, and our developers have proven to be masters at this with their excellent problem-solving skills.
International Coding Standards
Our developers work in line with the latest international coding standards for the authenticity and quality of their programming.
Logical and Creative Approach
Custom application development requires a considerable amount of logical thinking and our developers have plenty of it which they use in a creative way.
100% On-time Deliveries
Our developers work with proper design and always meet the requirements of the project to deliver on time.
Why

Choose Us?

If you want to gain the optimal position in the market where you play, you may want to consider a custom application solution to truly connect with your potential customers, partners, and employees. Adequate Infosoft specializes in developing custom applications to meet business and customer acquisition needs.

We use next-generation technologies such as .Net, Java, XML, EJB, and web services in our application development projects. Once we have managed our business goals, our application developers turn your software requirements into workable programming code and maintain and develop programs for your business.

Contact Us
Find

our Expertise

Our custom application developers carefully analyze your needs, build a state-of-the-art application, and provide suggestions that meet your custom web or mobile app development expectations.
Custom Application Development
We are not just a web development company; we are partners in creating value for our customers by creating feature-rich custom applications. Instead of compromises, we focus on customization.
Custom Enterprise Applications
We help you better manage your business by building and customizing solutions for HRM, CRM, payment systems, and more. For. Our goal is to help you get better results from your processes.
Startup
Augmentation
We believe that every startup can scale and build solutions that implement this belief. Our experts create a unique software application development strategy that allows you to easily scale your startup.
E-commerce Development
We build e-commerce applications that reduce business costs & highly customize existing applications. Our developers work out every detail for e-commerce applications.
Serving Multiple Industries
We also meet the unique application requirements of several industries, be it travel and tourism, retail and e-commerce, media and entertainment, logistics, e-learning, banking, healthcare, and more.
Advanced Application Security
Our custom web application development company uses advanced security measures including high-security plug-ins, data encryption, a secure admin dashboard, and so on. For optimal protection of the developed application.
Guaranteed Price Match
Our Indian offshore software design company offers you feature-rich responsive software with an elegant custom theme, feature-rich plug-ins, and mobile-friendly software development services for a better user interface.
Full-cycle Development
Our custom software application development company offers end-to-end or full-cycle solutions from initial prototyping and UI / UX design to final deployment.
Extended Software Protection
If you find any errors or any other problems after the software application is delivered, our experts will help you fix the problem as soon as possible.
FTR
Approach
As a renowned software development company in India, we follow the First Time Right (FTR) approach in order to build high-quality software applications within the project timeline.
Hope you understood all the relatable regions of custom application development services that Adequate Infosoft, prospers to offer on every customized web development grounds. You can extend your power source in the industry through our efficient and secured custom application development solution embarking on the complex use of various tools and technologies. Just contact us through the given below details.
Email your requirements or call us at: