POS Software

Development

We effectively integrate our point-of-sale software with your business to meet your business requirements. Using our latest technology, our team of experts ensures that POS is not only seen as a fundraiser but also in increasing sales, evaluating overall performance, managing inventory, and promoting modernization in industries such as retail, grocery, hotel, restaurant, bar, salon and much more.

Connect with us
Our POS Software


Development Service Includes..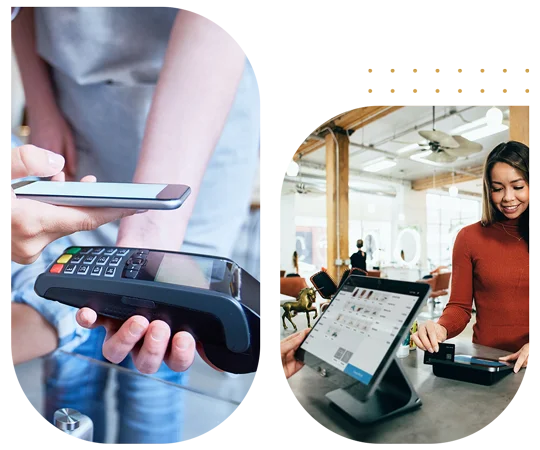 Restaurant
We provide customized development solutions and IT staffing services to foodservice providers. As a seamless background software development partner, our niche and industry experts come as an extension of the restaurant owner to optimize the development lifecycle.
Service Includes :
Restaurant Optimized Inventory Management.
Kitchen Display System.
Food Ordering Platform Integration.
Shopping

Malls

The POS Software for shopping malls ensures that the process of sales management is carried out completely and accurately in an easy and simple manner.
Service Includes :
Payment Processing Software Service.
Retail Management Software Service.
Omnichannel Retail Platforms.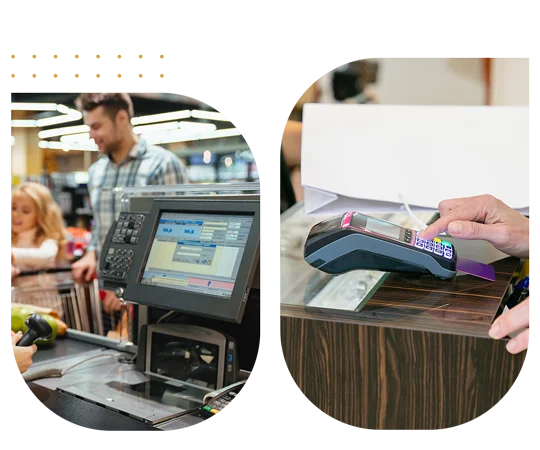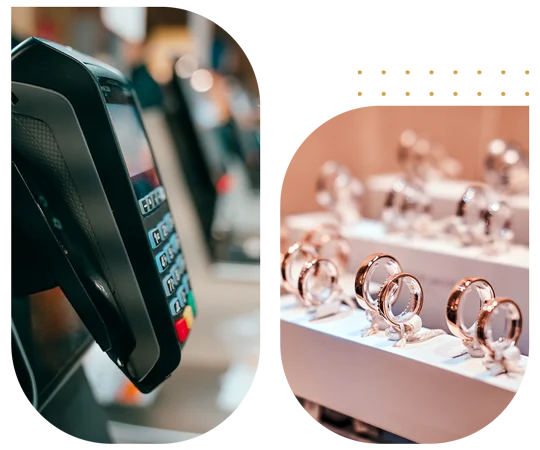 Jewellery

Shops

Our jewellery POS software and inventory management system are easy to set up and a joy to use. We work with a wide range of POS hardware and we can help you get started with tutorials, videos, and a range of support options.
Service Includes :
Manage Entire Jewellery Catalog.
Serve Customers in Best Possible Ways.
Customer-Friendly Payments.
Healthcare

Products

We provide customized healthcare POS software development services in response to the evolving healthcare industry. Our healthcare POS grows with you, allowing you to manage multiple stores from a centralized system.
Service Includes :
Cafeteria POS Systems for Hospitals.
Company Store.
Logistics/Shipping Cafeteria.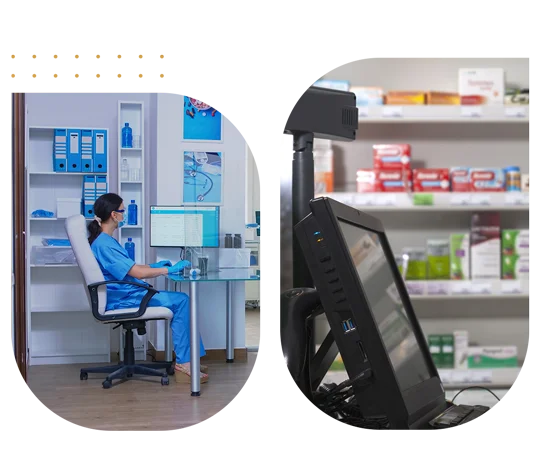 Hire POS Software Developers
of Adequate Infosoft

For Expressive Coding
Any Device
You can sell easily and quickly from any device. Our POS software development has device-compatible features and works from anywhere, online and offline.
Point Of Sale
A simple yet powerful, our POS software management system keeps your data secure, monitors sales, and even manages your business from a pop-up store.
E-commerce
Powerful Store Management application to easily sync items with images, tags, categories, and inventory with a Bigcommerce, Shopify or WooCommerce, and Magento store.
Payments
Our POS system development is a built-in service with integrated payments - cash, credit card, gift cards, and loyalty points.
Hardware
Our POS application development for any device is compatible with industry-leading POS hardware.
24/7 Support
With clients in over 50+ countries, our POS app development team is here to help with 24/7 award-winning customer support.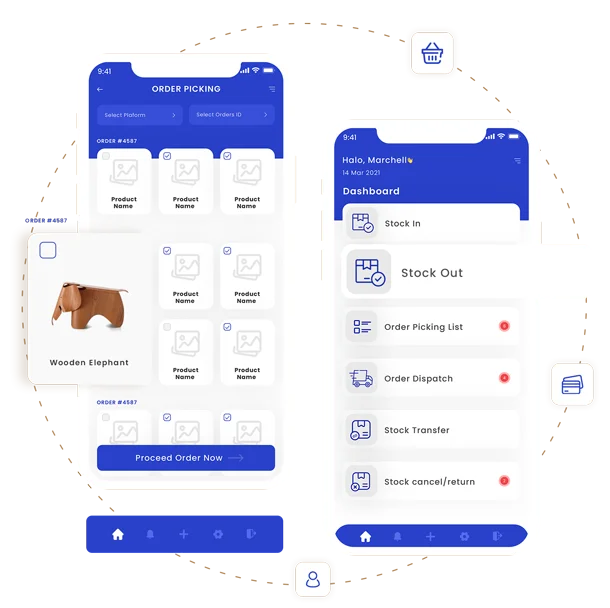 Simplify Technology with
Our POS App Development

Company

Adequate Infosoft offers functional leading POS software development solutions for any sector of retailer business models. Operating a retail store under the range of various administrative, management, and marketing skills comes in POS software solution services provided by our company. From ensuring that there's enough inventory to put together all the yearly or monthly sales reports, POS software skills are necessary for ensuring that your store runs smoothly.

As, every time a customer makes a purchase at your store, they're completing a point of sale(POS) transaction that our in-built software can manage meticulously for a disciplined and well-maintained sales register in technical data for your business. The business where everything—like sales, inventory, and customer management merges is POS software working demography for functioning.

Contact Us
Our

Features

Adequate Infosoft takes special care over the payment processor/gateway of your choice so that you can control all the cost-related inventories on your own.
The detailed sales reports based on the product, hour, employee, the total cost of items sold, complete retail amount, net profit, profit percentage, gross margin, etc. are provided by our POS software developers in the custom software.
Adequate Infosoft gives you the feature to take quick snapshots and charts on your store's sales performance at any instance.
You can manage your stock by creating product variations on the record of size, color, etc. of any sales and retail through our build POS software.
We enable you a seamless ordering such as automatically setting custom reorders of best-sellers providers in your business on a priority list given by our custom POS development of software.
You can also track employee's hours weekly and overtime with our POS software without any errors.
Our Development

Process

01
On-site Based Point Of Sale Software
This Software is installed 'locally' on your own server, i.e. on your shop's or business office's computer based on the premises of your store. Our developers make all the possible installments so that you can easily provide the facilities in your business model. This POS software requires you to purchase one or more software licenses that is managed by our assistance if you prefer not to do it on your own as well. Since this Software is based on your closed computer network, it does not require any internet connection for its functionality.
02
Cloud-Based Point Of Sale Software
All the merchants using this design of POS software development services can access customer data from anywhere with an Internet connection. Cloud-based POS systems are less expensive and we offer various deals from time to time to make all the processes of setting up all the technical aspects of your business startup at very affordable rates. When you use a cloud-based POS and link it up to your Shopify if you are using iPhone-based services in your store's inventory then it can automatically adjust if it's a Cloud-based POS system.
Restaurant
Restaurants are always the booming success and with the rise of digitalization, there are tonnes of platforms that sell and purchase foods and need precise entry and payment details. Not only restaurants but lodging houses are also in demand every day for POS software solutions. Adequate Infosoft has designed numerous software for our customers who can easily manage their inventories easily by our custom-tailored software assembled as well.
Jewellery Stores
These stores were our biggest challenge as the payment system was encrypted meticulously to ensure secure payment options along with delineated descriptions of jewelry products and their manufacturers along with sellers. POS software development services are at a peak in these zones of fields.
HealthCare Products
These e-commerce websites were our best experience to provide POS software that has their custom criteria about meds and includes filters according to their expiry dates of meds etc. But the clients are very successful with our resulting POS software development.
Clothing Lines
As there are many influencers and fashion bloggers we created a Clothing line POS software solution for our customers well equipped with the addition of buyers and sellers of clothes, payment systems, delivery location searches, etc.
Technologies

We Used

MSSQL
Microsoft's SQL is one of the popular ERP databases which are usually licensed, unlike MySQL which is open source and freely available. Its primary function consists of storing and retrieving data whenever it is requested by the applications. MSSQL can assist you in optimizing the performance of a server.

Oracle SQL
This database is perfect for upgrading any data or saving it while retrieving the info when needed with super intense speed. One of the complex new ERP technologies in this relational database boosts productivity at a very tremendous rate. The self-governed characteristics of SQL allow excluding system failures.

PHP
One of the most wanted back end language also known as Hypertext Preprocessor earlier called, Personal Home Page is an open-source, platform-independent programming language that embeds directly into HTML, integrates AJAX, Callback, etc. and interfaces easily with databases like Apache/MySQL, PHP is one the most popular languages that rule the web.

.Net
These are some of the .NET includes a large class library named Framework Class Library (FCL) and provides language interoperability across several programming languages.

JavaScript
The most popular language that is used with HTML5 and CSS accounts is the pillars of modern web applications and single-page applications. In most cases, it is a great choice if you are going to build a cloud-based ERP system that will be used by the staff via web browsers or mobile apps.

React Native
This open-source mobile application framework created by Facebook has ruled the world with its easy-to-code and flexibility in building user-friendly marketplace website services. Adequate Infosoft uses it to develop applications for Android, iOS, Web, and UWP by enabling developers to use React along with native platform capabilities.

AngularJS
This is a user interface that uses HTML as opposed to JavaScript. HTML is an easier programming language to use due to its intuitiveness and less convoluted style of coding. Such HTML coding translates into a superior coding experience very easily. Angular also uses filters that allow Adequate Infosoft top marketplace developers to quickly change how the marketplace appears to your users.
Hope you understood all the relatable usages and services provided by our company in POS software development services that Adequate Infosoft caters to offer on every custom pitch web development platform. You can extend your power source in the commerce industry through our instant POS development solutions embarking on the complex use of various tools and technologies. Just contact us through the below details:
Email your requirements or call us at: